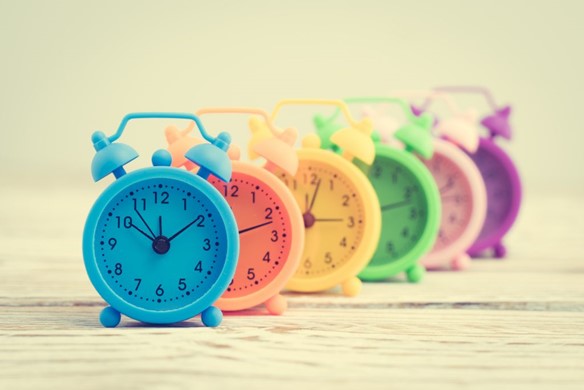 I'm a firm believer that writing should take the time it takes and shouldn't be forced. After all, sometimes life happens. We all have times when we feel like crap or are overwhelmed. In those times, it's difficult to focus in a way that makes the result feel natural and pleasant. But deadlines in life also happen, and there's something to be said for balancing exceptional quality and high output. To make the most of your time and create even more content that could earn you fans or income, try these tips to write faster:
1. Verbalize.
Take a few minutes before you start writing to talk through what you want to say. Use voice dictation software to take notes as you go. The process of talking through your idea for a second will help you mentally solidify your key points. Highlight those in your software recording or whip out a bulleted outline. Knowing what your key points are will ensure you don't get into the weeds when you write and that you have a logical, organized flow through the work. It also helps you achieve a conversational tone that will appeal.
2. Turn off editing options.
Tools like Grammarly or Word's spell and grammar check can be pretty powerful, and they're available at a crazy level. But if you use them during the actual drafting, the appearance of all those suggestions and red underlines can interrupt your flow, interfere with your natural voice, stress you out, and slow you down. There's also no point in cleaning the draft until you've gone through and made sure that you actually want to keep everything that's there. Turn your tools on at the end of the writing instead.
3. Skip the details.
Yes, you might be writing something super technical or that needs depth. But try to start with just the main concepts or steps for the bulk of the piece with the assumptions that people 1) don't have a ton of time, and 2) might not be at your level of expertise. There are probably always some points you could include. But the ones you must include probably are fewer than you initially think. Once you have the musts, then go back and consider what details actually would improve the value of what you have. Editors absolutely will tell you if something is missing, confusing, or needs to be fleshed out. They're experts at deciding which points are most important to expand.
4. Imagine it's a journal.
Writers often get concerned with how others are going to judge them for what they've written. They let that color what goes onto the page. They lose an enormous amount of time wondering what is right or acceptable.
To combat this and write faster, think of whatever you are writing more like a journal that nobody would see. Everything is safe and private. Forget that you're going to hit publish or submit the piece. Just focus on whether the work reflects you and is what you intended it to be. Then go back and think about how to improve areas like relatability, connotation, or the type of people in your audience (e.g., gender pronouns). Writing groups, online services, beta readers, and friends and family members all can offer feedback to make sure that you've considered different points of view. Once you have a draft to use as a template or core, you always can modify it deliberately to fit any publication you like.
Quality always should be at the front of your mind when you're writing. Nevertheless, there's no reason to settle for poor efficiency. Use these tips to trim some of the fat, write faster, and get more content to your readers.